Disclosure: I was invited to a press screening of The Hundred-Foot Journey and my neighbor and I were treated to a fun weeknight excursion! All opinions are mine alone.
I have been looking forward to this movie all summer! DreamWorks has been teasing us with recipes from the actual movie – and I know it was going to be delicious! Here is the list just in case you've missed any!
Isn't that a fun way to celebrate a movie opening?!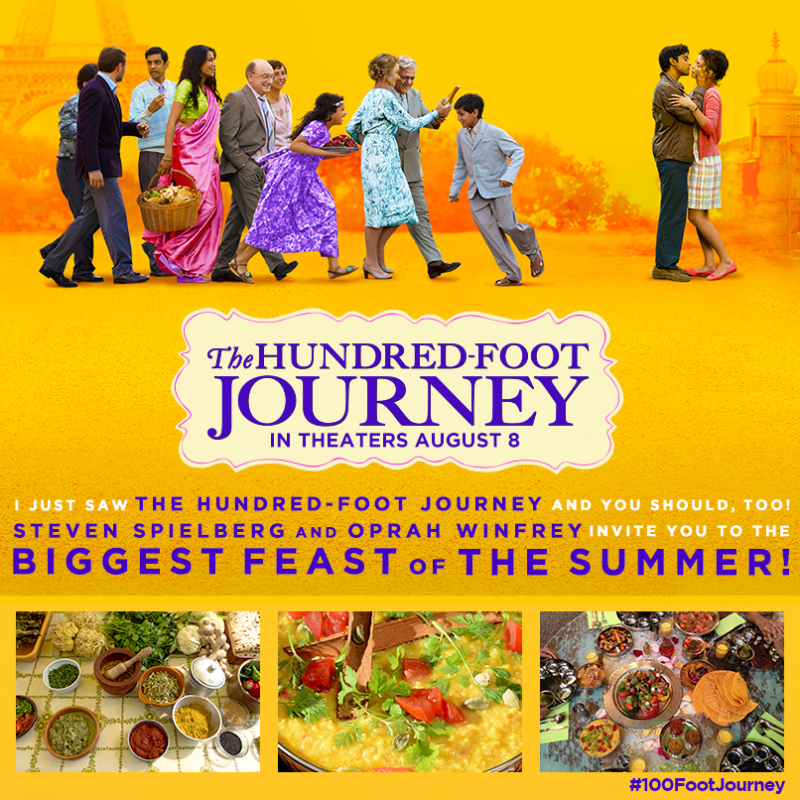 Synopsis:
In "The Hundred-Foot Journey," Hassan Kadam (Manish Dayal) is a culinary ingénue with the gastronomic equivalent of perfect pitch. Displaced from their native India, the Kadam family, led by Papa (Om Puri), settles in the quaint village of Saint-Antonin-Noble-Val in the south of France. Filled with charm, it is both picturesque and elegant – the ideal place to settle down and open an Indian restaurant, Maison Mumbai. That is, until thechilly chef proprietress of Le Saule Pleureur, a Michelin-starred, classical French restaurant run by Madame Mallory (Academy Award®-winner Helen Mirren) gets wind of it. Her icy protests against the new Indian restaurant a hundred feet from her own escalate into a heated battle between the two establishments until Hassan's passion for French haute cuisine — and for Madame Mallory's enchanting sous chef, Marguerite (Charlotte Le Bon) — combine with his mysteriously-delicious talent to weave magic between their two cultures and imbue Saint-Antonin with the flavors of life that even Madame Mallory cannot ignore. At first Madame Mallory's culinary rival, she eventually recognizes Hassan's gift as a chef and takes him under her wing.
"The Hundred-Foot Journey" abounds with flavors that burst across the tongue. A stimulating triumph over exile, blossoming with passion and heart, it is a portrayal of two worlds colliding and one young man's drive to findthe comfort of home, in every pot, wherever he may be.
Directed by Academy Award-nominee Lasse Hallström and starring Academy Award-winner Helen Mirren, Om Puri, Manish Dayal and Charlotte Le Bon, "The Hundred-Foot Journey" is produced by Academy Award-winner Steven Spielberg, Academy Award-nominee Oprah Winfrey and Juliet Blake. The executive producers are Caroline Hewitt, Carla Gardini, Jeff Skoll and Jonathan King. The screenplay is written by Academy Award-nominee Steven Knight, based on the novel "The Hundred-Foot Journey" by Richard C. Morais. 
"The Hundred-Foot Journey" will be released in theaters on August 8, 2014.
My thoughts:
I was able to take my sweet neighbor and friend to the movie. She joked that we live about 100 feet away from one another! It was wonderful to see it with a friend who also loves to cook! (She is much better than I am at it – which is why we accept anytime they send a dinner invitation our way!).
It was a sweet, romantic movie – perfect if you love getting lost in the loveliness of family, food, and love. 
From Kelly: "Om Puri as the family patriarch is one of the most charming and endearingly comic characters I've ever had the pleasure to meet on the big screen."
1. Would I see it again? Yes! I'd love to! 
2. Will I take the kids to see it? I think Julia would love it! I honestly cannot remember any part that I would not want her to see. I think she would truly enjoy Marguerite, a beautiful young French sous chef. I had a very soft spot for her, as my great grandmother's name was Marguerite. She was stubborn and fiesty and beautiful, just like Marguerite in the film.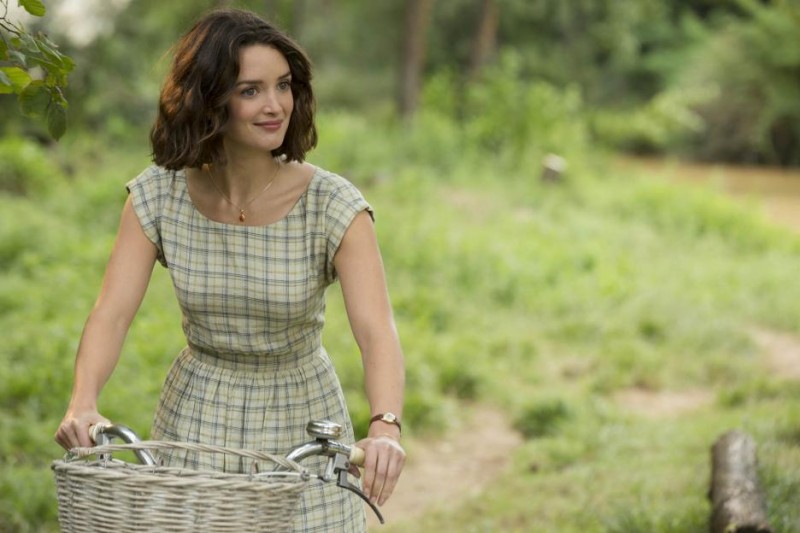 In the movie, they mention that Food is Memories. I couldn't agree more! As we walked out of the theater, I immediately wanted to call my grandmother and have her start writing down all of her recipes. (Mom – can you ask her to do that?!).
Let me know if you go and see it!