Winner announced! Jenni T.
**********
Disclosure: Our family was provided tickets to LEGO KidsFest in exchange for promotion of the event and to provide our own LEGO KidsFest review. All opinions are my own.
Is your home filled with LEGO® creations around every corner? I know ours is! From where I am sitting, I can see a boat, a plane, and a dock scattered in the family room. Playing with LEGO® is their default whenever it is time to come inside. I love the creativity that happens when they pull out their big box of blocks!
Two years ago, we had the opportunity to go to LEGO KidsFest Phoenix and we had an amazing time!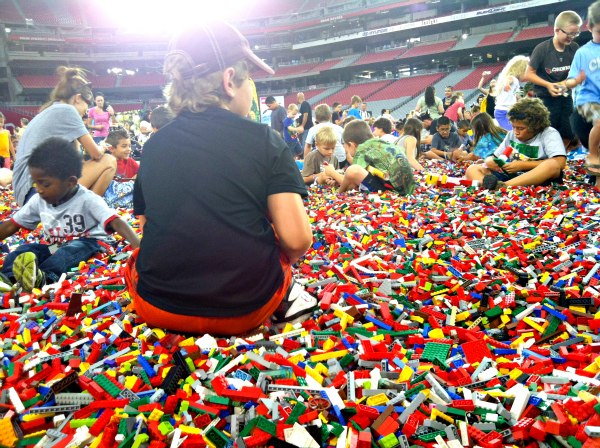 From LEGO® KidsFest:
Five identical sessions are available for the three-day tour stop. LEGO KidsFest tickets are $22.50 for adults and $19.50 for children and can be purchased online at http://www.legokidsfest.com.
The award-winning LEGO® KidsFest returns to Glendale's University of Phoenix Stadium from Feb. 27 – March 1.
Those who attended the previous show can once again expect hands-on building, creative experiences and one-of-a-kind activities. Children of all ages and builders of all skills and levels are welcome.
LEGO KidsFest features dozens of new activities and popular favorites on the three-acre show floor.
New activities for this year's visit include LEGO Mindstorms, LEGO Movie, LEGO Fusion, LEGO Disney Princess, the Mixels, a LEGO Superheroes area and more.
Once again, show-goers can enjoy the LEGO Model Museum, Race Ramps, Creation Nation, Construction Zone, LEGO DUPLO®, LEGO Retail store and LEGO KidsFest Marketplace, the Big Brick Pile, LEGO Ninjago and more.
One of MY followers will win (2) tickets to for the opening night session on Friday, February 27,  2015   (4-8:30pm).  I encourage you to LIKE and Follow LEGOKidsFest on Facebook, Twitter and/or Instagram for all the latest ticketing updates as this event has been selling out in prior cities.    Must be 18 to enter, 1 entry per day allowed, random drawing by USFG!
Winner will be randomly chosen by USFG on Friday January 23 and announced on my Blog and notified via email!