In honor of the LEGO KidsFest giveaway going on through January 23rd, we have another fun giveaway for you!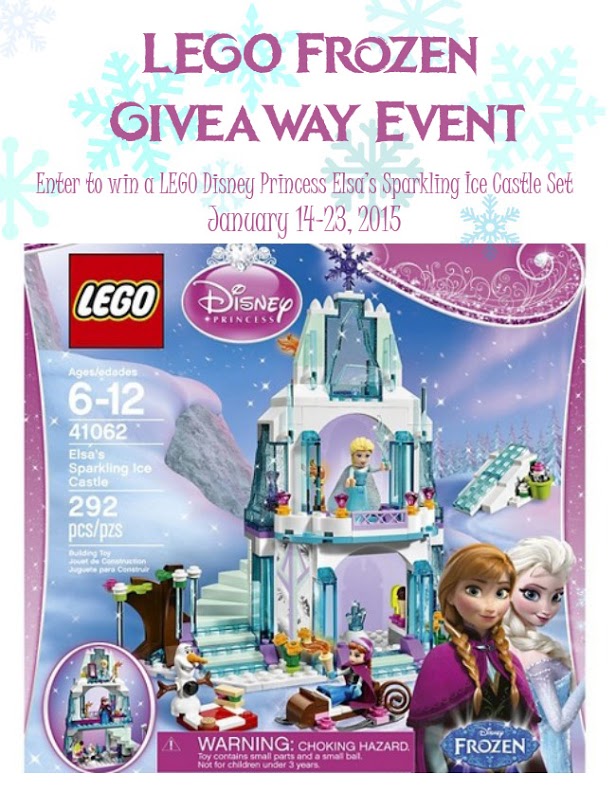 Guess what?! We found out that this is sold out everywhere we checked – including the LEGO website! So, you can really win a very special prize for your favorite Frozen fan!
Help Olaf and Princess Anna have a cool adventure in Queen Elsa's magical Ice Castle!
LEGO® brand Disney PrincessTM Elsa's Sparkling Ice Castle includes Elsa and Anna mini-dolls,
Olaf, a secret staircase, sleigh and much more Hop aboard the sleigh and join Anna and Olaf as
they pay a visit to Queen Elsa's beautiful ice palace for some frosty fun! What will they do first?
Play hide and seek behind the secret staircase, or go skating around the castle? They could
ski down the ice hill or prepare frozen treats in the castle's ice cream bar and then get ready for
a picnic in the snow under the magnificent icicle tree. It's all up to you! First have fun building
Elsa's Sparkling Ice Castle. Then it's time to play! Includes Queen Elsa and Princess Anna mini-
doll figures, plus Olaf the snowman.
• Includes Queen Elsa and Princess Anna mini-doll figures, plus Olaf the snowman
• Features a castle with icicle tree, sleigh, secret staircase, ice cream bar, bed and an ice hill
• Accessories include skis, ice skates, glittery wall elements, decorative stickers, 2 capes, tiara,
hair bow and a carrot nose for Olaf
• Make the secret staircase appear and disappear
• Prepare tasty frozen treats in the kitchen for a picnic in the snow with Olaf
• Ski down the ice hill with Elsa and Anna (and discover a secret hideaway inside!)
• Follow the movie story or create your own adventures inspired by these brand-new DisneyTM
princesses
• Elsa's Sparkling Ice Castle measures over 9" (23cm) high, 7" (20cm) wide and 4" (11cm) deep
• Sleigh measures over 2" (6cm) long, 1" (4cm) wide and under 1" (2cm) high
Suggested Age 6+
292 Pieces
ARV: $39.99