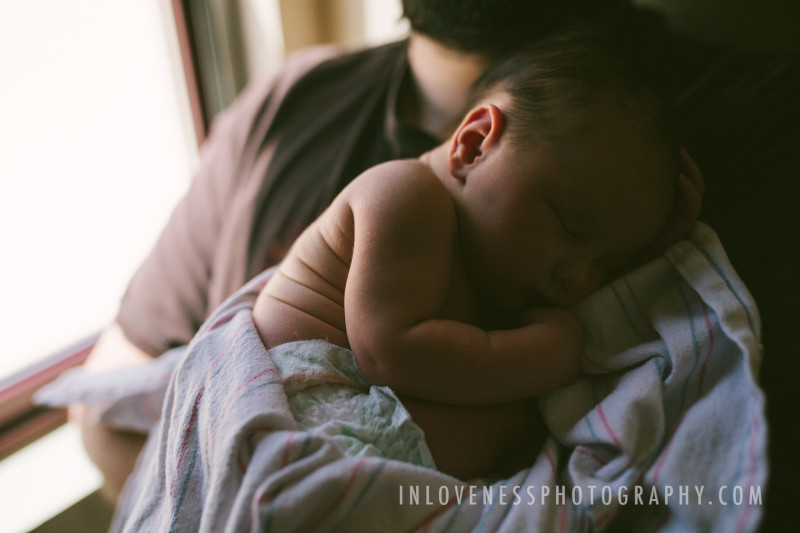 Friday morning, we headed into the hospital.
The plan was to try another version, then induce right away, since you had decided to turn transverse again. I was so relieved when the sonogram showed that you were head down. That was a wonderful start to the morning!
We headed back to triage to start the induction. Your daddy was with me the entire time. They started me on the pitocin and IV as I tried to walk through what was about to happen emotionally.
At about 1pm, they scaled back the pitocin because I wasn't progressing but the contractions were happening very quickly. That seemed to work and I settled back in. At 4pm my water broke and they moved me over to labor and delivery.
I had an epidural and they checked on you again. They decided to call for a sonogram to get a better idea of what you were doing. Well, your cord was pressed below your head, so each time you tried to enter the birth canal you were cutting off your air supply. So, you would enter, then immediately move back up.
Now that we knew what you were doing, they began to watch your heart rate very closely.
You were not tolerating labor at all. They decided to give me ephedra to try to help you, and when they did that, both of us were in distress. Suddenly, six people were in the room.
My doctor said, "I am so sorry, I know this isn't your plan, but we need to get Mary Alice. You are going to need a c-section." I looked up at the other five people watching the monitor and knew that this needed to happen.
If I've learned anything, it is that one of the surprises of motherhood is that the control that I've pretended to have over anything has suddenly vanished. I am constantly reminded that I am not in charge of any situation. What a beautiful thing to know that the Great Composer already has a lovely song written for you.
I was rolled down the hall and everything was very bright. There was music playing and even more people inside the OR. Daddy had to wait while they prepared me on the table. I really didn't like being alone at that point.
I kept thinking about the verse "Perfect love casts out all fear." I John 4:18
Birth is one of the most beautiful forms of perfect love, so I knew that fear had no place in that room. I said hello to my fear. I told it that I understood why it was there, but that it had to leave immediately. I had very important work to do and just didn't have time to have any fear present.
I was so relieved when daddy came in and sat down next to me. They had a clock that I could watch and within three and 1/2 minutes, they had you out.
Your cry. It was the most comforting, perfect sound I've ever heard.
You were here. That is all that mattered. You were lovely and perfect. My heart burst with praise that I could finally see you.