Disclaimer: I was invited to a complimentary sneak preview of Walt Disney Studios' Alice Through the Looking Glass.
In the garden of memory, in the palace of dreams, that is where you and I shall meet. – The Mad Hatter
This time it was Julia's turn for a movie date! Last Wednesday, we drove down to downtown Phoenix for our M&Ms, popcorn, and slushies.
As the movie begins, Alice captures your admiration right away. She is confident and brave and independent, but so very loyal and kind. She is the kind of girl you want as a friend, so that she could tell you all the magnificent stories of her travels.
No, it is not true to the Lewis Carroll book. I didn't mind. I wasn't really expecting that. I loved the discussions of time throughout the movie. I've always been fascinated by time and how it seems  to speed up and then suddenly slow down. Like the times you receive the news someone has passed away or like the times you enjoy a long holiday weekend. Time seems to play tricks on our understanding that seconds are constant, unchanging things. There were so many moments that the dialogue felt beautifully heavy with a warning to us all – to remember that this world is not forever.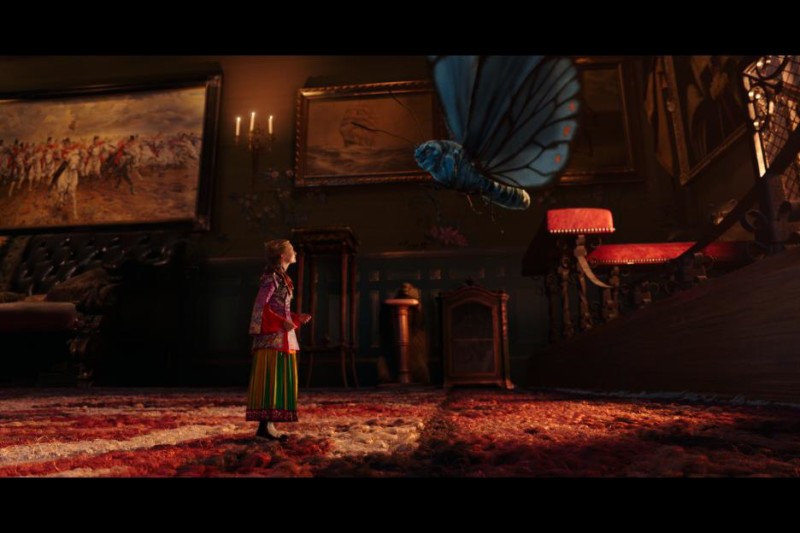 I loved the movie. I thought it was very well done and will definitely watch it again.
Everyone parts with everything eventually. – Time
From Julia: I thought it had a lot of great messages about being creative with your imagination, loyal to your friends, and faithful to your family. I thought the story-line was great. I loved the imagination that went into it.
***
Now for the important questions: Would I take the other kids to see it?
Nate (13) would absolutely love it. He is a huge fan of Johnny Depp and fantastic worlds.
Riley (5) would probably like it. The colors and action are stunning, but the storytelling might not hold his attention since he is so young. It may be a little intense in some parts for him, so I'd sit next to him and warn him.
***
Like ALICE THROUGH THE LOOKING GLASS on Facebook: https://www.facebook.com/DisneyAlice
Follow ALICE THROUGH THE LOOKING GLASS on Instagram: https://instagram.com/DisneyAlice
Follow Walt Disney Studios on Twitter: https://twitter.com/disneystudios
Visit the official ALICE THROUGH THE LOOKING GLASS site here: http://movies.disney.com/alice-through-the-looking-glass
Check out this adorable video on Time Gear Cookies: https://www.facebook.com/DisneyAlice/videos/vb.96787126667/10154119497021668/?type=2&theater
Time is many things, but he is not money. Nor is he our enemy. – Alice