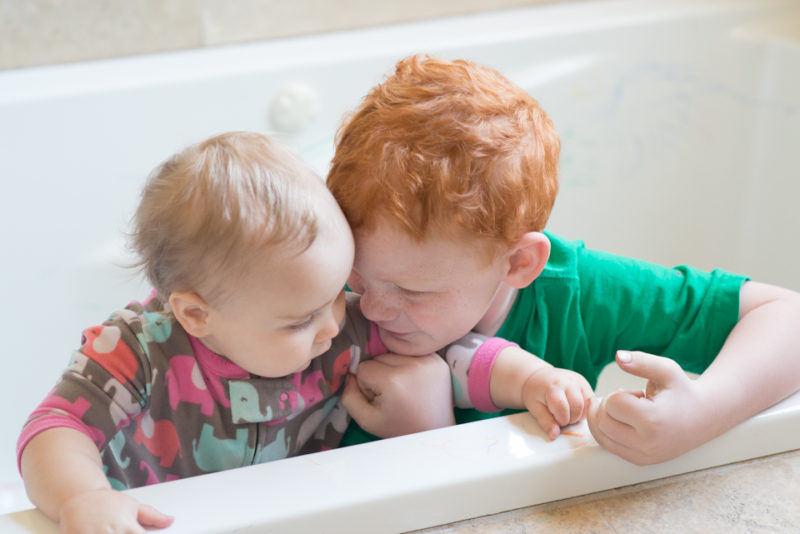 This is it.
The post where long haired freaky people get it.
The post where you realize I really am a Jesus Freak.  I cannot go one more day without singing His praises and telling you the whole story.
(Below is my Facebook conversation with priest Father Louis from Haiti. I have been given his permission to share this.)
*****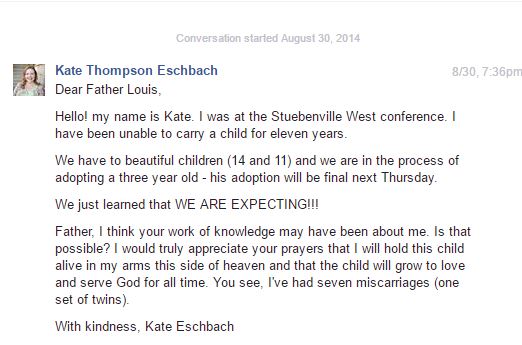 *****
2014. You guys. That was a long time ago.
In motherhood years, that is like 700 school lunches ago.
*****

*****
I reached out again in 2015, just wanting to share the good news with him. But he is a priest in Haiti and a nationally recognized speaker, so you know… he probably doesn't have a lot of time for facebook. Especially messages in the 'other' folder.
But two years later, just a few weeks ago, on the night of adoration at Stuebenville West 2016 in Tuscon…
*****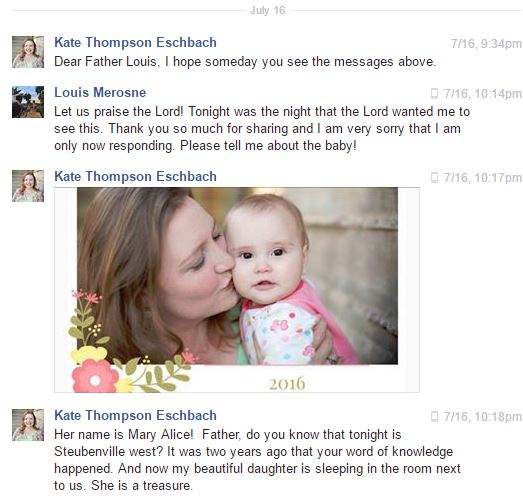 *****
And then, I get to tell him…
*****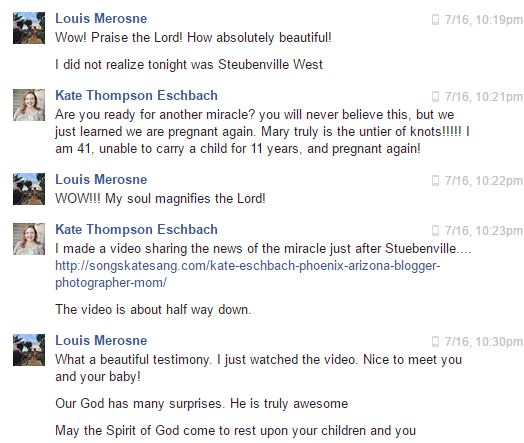 *****
So here is the deal.
Two years ago, dear Father Louis had a word of knowledge that "someone is struggling with fertility and God is going to untie the knots."
Now, at this point, you can think I am certifiably insane, but this was in front of over 2,000 witnesses. The youth ministers at my church have stood by my family through the miscarriages and Riley's adoption. They knew me when the doctor told us it was impossible. Other friends at the church sent flowers and brought over dinner when we lost the twins. They've witnessed our journey and held us through it.
Then, they witnessed a beautiful time of prayer and special words from Father Louis.
Then, they witnessed Mary Alice.
And when I think about it, Father Louis didn't say "God is going to untie the knots and then quickly tie them again." They are untied! Why am I surprised that we are expecting again?
I pray with all my heart that I will always say "yes", just as Mary did.
So here I am, saying "yes" to sharing the miracle with you. To give Him the glory and to proclaim His goodness to everyone.