Disclaimer: I was invited to a complimentary media screening of Disney•Pixar's CARS 3
The first time I saw cars, I was a huge fan. It touched a sentimental and meaningful nerve that ran deep within me. I don't know if it was the stage of life we were in or if it is just how I am programmed – sentimental and cheesy.
Brian and I were building a life with our two oldest in Denton, Texas. We were saving to buy our first home and working to pay off student loans and medical bills. We had very little, but we were so very happy with our little family of four. Julia and Nate were six and three.  At the time you could get some of the cars in happy meals.  Nate and I would sit in the floor during Julia's ballet classes and roll them back and forth. I'd glance up and look through the glass door to see her smiling shyly in the back of the class. Whenever we traveled to Tulsa to visit Brian's grandmother, we borrowed a DVD player that Nate would hold in his lap. He watched Cars over and over. I didn't mind because I loved the soundtrack.
At the time, I worked at a company who was beginning to downsize. I was in the accounting department, and I remember sitting around a big table with the accounting team asking for more severance for people. I was asked pointedly why I thought we should do that. It was a time when our competitors were catching up with us and we were losing our lead in the marketplace. Drastic changes had to be made. I clearly remember standing up and giving a speech that was all about the scene in Cars when it showed the new highway being built. I spoke of being fearless about taking the scenic route, treating people right, and valuing the good life. I made the case that as a company we had never rushed to an end. We were always careful to treat our team with respect.  It was definitely a Jerry Maguire moment, but it bound me forever to the movie Cars. I'm not sure if I change any minds that day, but hopefully I planted something in their hearts.
Fast forward a few years, and this amazing blogging adventure with me at Disney Social Media Mom's Conference. We listened to one of the Pixar creator of Cars tell us how Cars Land in California Adventure was a love letter to the fans. I can clearly remember crying as he told us how much it meant to him that the fans embrace the real message of the movie. I can remember walking out on what actually felt like Radiator Springs and looking up and feeling like I was actually part of something much bigger. Disney has that effect on me.
A few weeks ago, we were invited to visit the Cars3 event.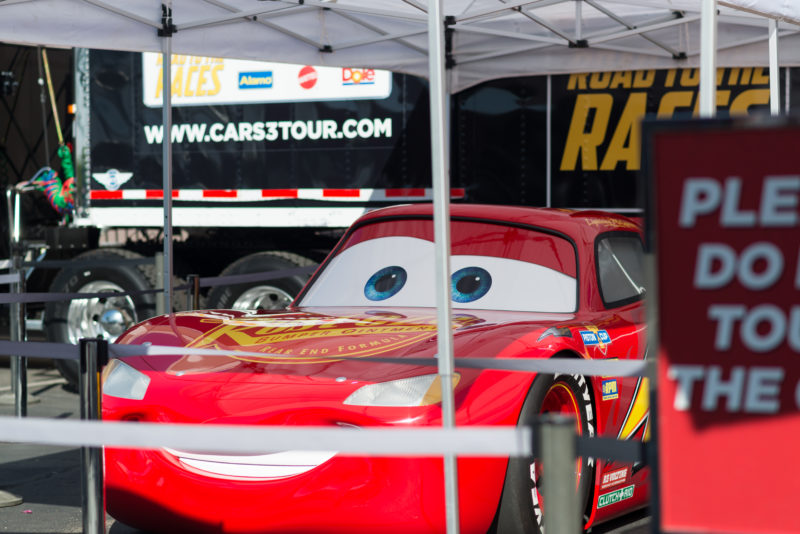 Riley had an amazing time changing lug nuts and meeting the characters in the new movie.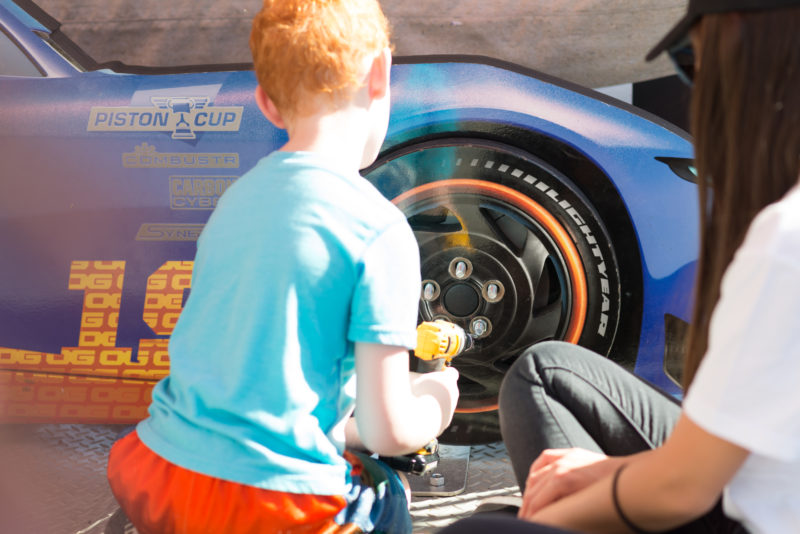 After seeing his excitement, I decided to take him to take him with me to see the press screening of the movie.
I wasn't sure if Disney could pull off a sequel with a message as meaningful and powerful as the first one. I have pretty high expectations.
Wow, they did it again. Without ruining anything for you, I can tell you I loved it as much as the first one. What an incredible surprise to see a sequel that was done so incredibly well. I think it only disappointment I had was with the soundtrack. The soundtrack of the first cars movie was hands-down outstanding. I think that was their only miss this time. So be sure and take your family, and enjoy Father's Day weekend.
I know the other kids will absolutely love it, and I can't wait to take them to see it!