This conversation is sponsored by Grove Collaborative. It is my honor to share news with you from a company that I enjoy and support!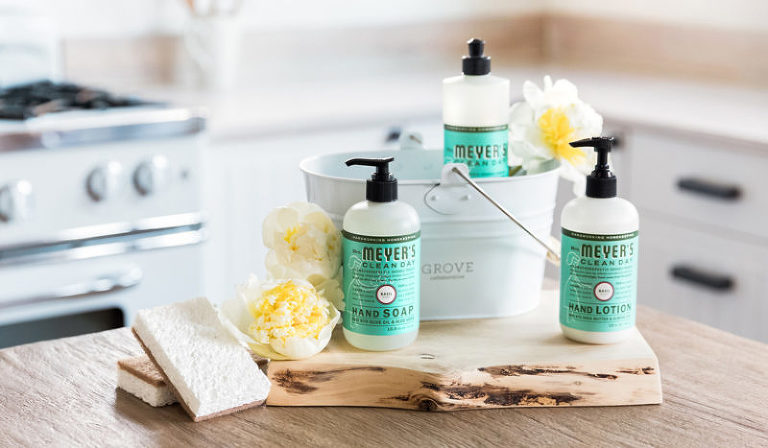 January is a great time to start practicing a better home care routine. But what does 'better' look like?
For me, it's about finding simple, healthy solutions I can stick with all year — even when things get chaotic. It means keeping my expectations clear and consistent when it comes to daily and weekly chore lists. 
Enter Grove Collaborative! You guys – they are probably my favorite company. Their scents, the delivery… perfection! I never have to remember to pick up these products at the grocery store. Grove simplifies tasks like shopping for home and personal care products. Instead of making an extra stop at the store, you can come home to all your favorite healthy, affordable products sitting on your doorstep. And if I don't need any one month, I can just push the shipment to the next month! They even text me to remind me to check before the shipment date. So great on my budget and my cabinet space.
Now is a great time to give Grove a try, because they're offering a free New Year, New You Set with your first order of $20 to help you create your own healthy home care routine:
Free Mrs. Meyer's hand soap

Free Mrs. Meyer's dish soap

Free Mrs. Meyer's hand lotion

Free Grove cleaning caddy

Free Grove walnut scrubber sponges

Free Shipping & 60 Day VIP Trial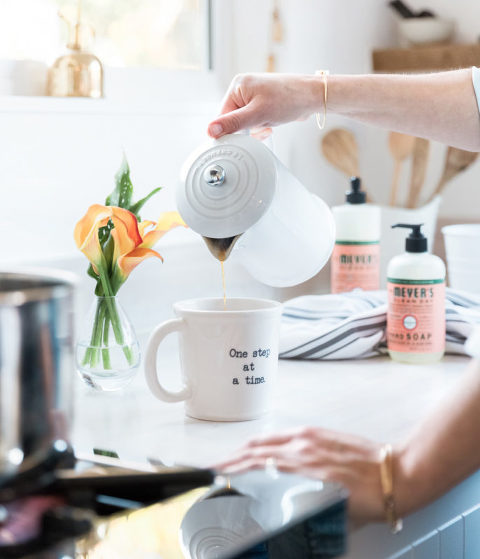 If you're already a customer, you'll get a free set of Grove walnut scrubber sponges, which are so pretty you won't mind leaving them out by the sink.
Switching to beautiful home care products has been a real game changer for me. 
I can't say enough good things about Mrs. Meyer's soaps and lotions. They were some of the first natural products I started using, and they're still a staple in my kitchen and bathrooms. All the products are non-toxic and made with plant-derived ingredients, so I can feel good using them around my family. Right now I'm using the honeysuckle scent because it really perks me up on grey days!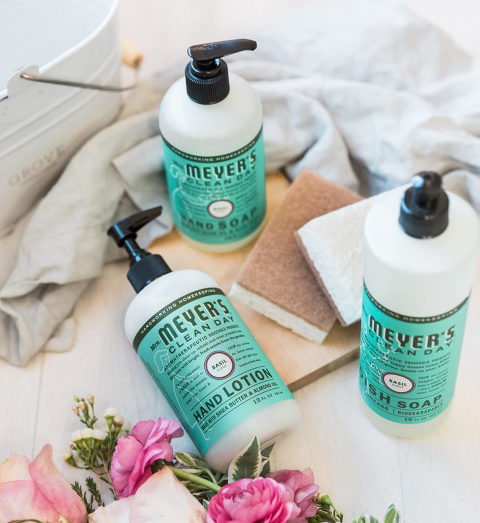 In addition to the free New Year, New You set, here are the top 10 products I'd order from Grove if you're looking to create your own healthy cleaning routine:
Seventh Generation laundry pods

Ecover stain remover

Grove Collaborative wool dryer balls —

these are genius!

Grove Collaborative kitchen towel

Seventh Generation auto dish packs

Bee's Wrap assorted wraps —

perfect for storing bread or wrapping leftovers

Grove Collaborative cleaning concentrates

Grove Collaborative glass spray bottle with silicone sleeve

Grove Collaborative microfiber all-purpose cloth

Smarty Pants adult probiotic complete —

to keep yourself healthy, too!
Once you submit your Grove order, you'll also be signed up for the free 60 day VIP trial. For 60 days, save even more with free shipping, free gifts, price matching, exclusive sales and personal service. My VIP membership has paid for itself in shipping alone!
Here's how it works:
Sign up for Grove Collaborative here

. You will receive the New Year, New You Offer for free when you sign up!

To receive this offer, your order needs to be a minimum of $20. Choose the combination of products and scents you love and receive your first box within a few days.

You made it! Click Finish & Pay and place your order.