Disclaimer: I was invited to a complimentary media screening of Forever My Girl.
Every so often in this amazing world of blogging, the coolest opportunities cross my desk. Last week, I took Julia to see a press screening of Forever My Girl. The next day, I was invited to conduct a one on one interview with the star of the movie, Alex Roe. (What?! Um, yes please!).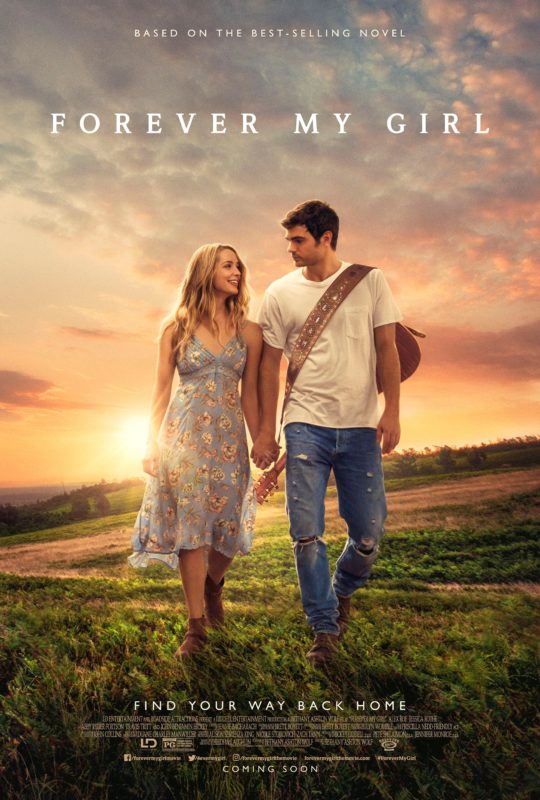 Before I get to the movie review, I'm going to tell you about the interview first.
I rode the elevator up to the third floor of the Palomar Hotel downtown. I walked over and checked in and chatted with another blogger. We were getting to know each other and suddenly I looked up and Alex Roe was standing there. He shook my hand and introduced himself. He was so kind and polite. The team took us back to a room full of windows and an incredible view of downtown Phoenix.
I walked in and was told my seven minutes was now starting. I'll do my very best to retell our conversation.
Yes, I was going to Facebook Live it. But… I got nervous. I felt strange about asking, we started visiting, and I forgot all about taping the interview. (rookie mistake!)
In the movie, Alex plays the guitar and sings. He doesn't just strum a few chords, his playing is incredible. I asked if that was really him. Yes! It was. It was all completely him. There was no 'stunt double' for the singing or the guitar playing. He learned guitar for the movie. Can you imagine?! What a gift to be given a push like that into really mastering an instrument! At that point, I gushed about how Brian and I met in a jazz choir in high school and how we sing together and love music and…. wait, whose interview was this?
His character is swept up into the glamor of being a celebrity and he falls out of touch with family completely. I asked if that is at all what his life is like. He was so sincere and sweet when he said that his mom would never let that happen! He is a very proud uncle of nine nieces and nephews and he loves going home to London and spending time with them.
In the movie, he has an adorable relationship with the little girl in the movie. He shared that many of those scenes we ad-libbed and were absolutely precious. You can tell he has a wonderful way with children!
Then, he told me that my eyes matched my shirt, so we are pretty much besties now.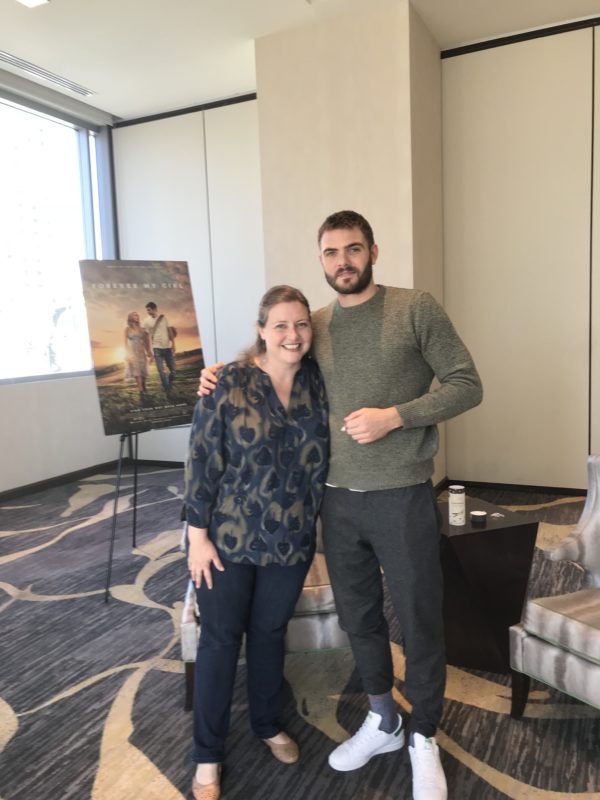 About the movie:
Julia and I enjoyed the film. It was good fun for a girls night out.
A bit predictable? Yes. A little too much hanky panky your grandma wouldn't approve of? Yes. A little like a Hallmark flick? Sure. We love Hallmark movies, so it was right up our alley.  I think it is so fascinating that Hallmark movies get a bad rap sometimes. Did you know that the Hallmark movie is the 4th most watched channel on television? In this time where unhappiness and despair are seen on every news channel, we have tuned into a channel that has dubbed itself a happy place. We choose films like Forever My Girl as a light escape from the everyday. 
The music was really great. Knowing that Alex learned to play the guitar for the movie is amazing! I think he just might have a career ahead as a country singer.
The chemistry between Liam (Roe) and Billy (Fortson) is seriously precious. You can tell in the movie that it is the real deal.
From where I sit, if you like sweet movies about second chances, this is perfect for you.
Would I take Nate (14) to see it? Nah. Probably too much of a chick flick.
Would I take Riley (6) to see it? No. It has the premarital sex grandma would shake her finger at.
From the studio:
A music superstar reunites with his first love and realizes the steep price he has paid for his success in Forever My Girl, an uplifting and emotional romance based on the novel by New York Times and USA Today bestselling author Heidi McLaughlin.
Liam Page (Alex Roe) and his high-school sweetheart Josie Preston (Jessica Rothe) were the golden couple of Saint Augustine, Louisiana, until Liam left her at the altar for a shot at fame and fortune. Eight years later, Liam returns to his tiny hometown for the first time as a world-famous recording artist, but not even his own father is thrilled to see him. As he tries to rebuild the bridges he burned years earlier, Liam reconnects with his small-town roots, his close-knit community and Josie, the girl he left behind. As he attempts to reclaim everything he loved and lost, Josie does her best to keep him out of her heart, but life has one more surprise waiting for Liam, one that could change everything, in this heartwarming look at love, family and second chances.
Forever My Girl stars Alex Roe (Hot Summer Nights, The 5th Wave), Jessica Rothe (La La Land, Lily & Kat), Abby Ryder Fortson (Ant-Man, "Transparent"), Grammy Award® winner Travis Tritt (Fire Down Below, Brother's Keeper) and Tony Award® winner John Benjamin Hickey (Flags of Our Fathers, The Bone Collector). The film is directed by Bethany Ashton Wolf (Love Scene, Midnight Juliet) from a script she adapted from McLaughlin's best-selling novel of the same name.